Retreats, Forms, and Resources for Youth Ministers
Youth and Young Adult Ministry Calendar
Youth/Young Adult Minister Coffee Meetings
Every month or two, youth and young adult ministers from Fort Wayne and South Bend gather together to discuss ministry trends, upcoming events, and ways to support our youth and their families.

Here are the Coffee Gatherings in the Spring of 2023.

South Bend:
Wednesday, January 11, 2023 1:30 p.m. – 3:00 p.m. Coffee Gathering South Bend Chicory Cafe  
Wednesday, February 15th, 2023- 1:30pm-3pm Y/YA Min. Coffee Gathering South Bend Chicory Cafe 
Wednesday, March 15th, 2023- 1:30pm-3pm: Y/YA Min. Coffee Gathering South Bend Chicory Cafe *Focus on implementing Eucharistic Revival in Parishes*  

Fort Wayne:
Monday, January 16, 2023 – 9:30 a.m. -11:00 a.m. Coffee Gathering Fort Wayne Fortezza Coffee  
Monday, February 13th, 2023 – 9:30am-11am Y/YA Min. Coffee Gathering FW Fortezza Coffee
Monday, March 13, 2023- 9:30am-11am: Y/YA Min. Coffee Gathering FW Fortezza Coffee *Focus on implementing Eucharistic Revival in Parishes* 




Waivers, Forms, and Resources
COVID-19 Response Resources
Youth Ministry Guidelines
Youth Ministry Training

Tuesday, April 20, 2023
10:30 a.m. – 3:00 p.m.
Warsaw

Join us for this engaging Youth Ministry Training exploring the Working Genius and other leadership skills essential to successful ministry.
Ministry Resources
Youth and Young Adult Ministry Calendar
Damascus Missionary Calendar
DRE / Youth Ministers' Retreat
In the Year of St. Joseph
"Come away by yourselves to a deserted place to rest awhile."
Some Helpful Retreat Information
Retreat Timing
12:00 p.m. Oct. 5 – 4:00 p.m. Oct. 6.
Why the Silence?
St. Joseph is not recorded speaking a word in Scripture. We can encounter Jesus in a powerful way through taking a step back and listening in silence.
Cost
We are asking our pariticipants / their parish or school to pay $30 to help defray some of the cost of the retreat.
Meals Included
Tuesday: Lunch / Supper
Wendesday: Breakfast / Lunch
Overnight Accommodations
Guests will have a single-person room at the Lindenwood Retreat and Conference Center.
Year of St. Joseph Indulgence
Participants can gain the Year of St. Joseph Indulgence by participating in this retreat which will include a reflection on St. Joseph.
Oct. 5 Schedule of Events

"Silent Like St. Joseph"
12:00 p.m. Check in
Enter into the Silence
12:30 p.m. Lunch
1:15 p.m. Various reflections / silent prayer opportunities
4:45 p.m. Holy Sacrifice of the Mass
End of Silence
5:30 p.m. Dinner
Evening Prayer
Evening Social
8:30 p.m. Night Prayer
Oct. 6 Schedule of Events

"Our Lifeline: Communication with God"
7:45 a.m. Morning Prayer
8:15 a.m. Breakfast
9:00 a.m. Making Room to Listen to Jesus
Discussion / Break
10:00 a.m. What are the Truth and Lies in My Life?
Discussion / Break
11:15 a.m. Holy Sacrifice of the Mass
12:00 p.m. Angelus and Lunch
12:45 p.m. – 1:30 p.m. Free Time
1:30 p.m. Make a Plan Workshop
2:00 p.m. Sustaining a Personal Prayer Life
2:45 p.m. – 3:20 p.m. Adoration
3:30 p.m. St. Joseph the Worker Reflection
4:00 p.m. End of Retreat

Lifeteen Online Training
7:00 p.m. Wednesday, April 14
Learn how to make the most of the Lifeteen resources to engage and accompany the young people of your parish. Hear from Nick Oberhausen who is the Director of Youth Ministry at Our Lady of Good Hope parish in Fort Wayne.
YDisciple Online Training
7:00 p.m. Wednesday, April 21
Learn how to use YDisciple's resources to effectively engage and lead teens through small group ministry. Hear from Annie Grandell who is the YDisciple Coordinator for NET Ministries.
Contact Us
John Pratt
[email protected]
260-422-4611 x 3321

Janice Martin WP
260-422-4611 x 3318
[email protected]

Archbishop Noll Catholic Center
915 S. Clinton Street
Fort Wayne, IN 46802


Rev. Gregory Abuya
Parochial Vicar
Sacred Heart of Jesus, St. Jude
Sacred Heart of Jesus
574-291-0570
Sacred Heart of Jesus
63568 IN-931
South Bend, Indiana 46614
St. Jude
19704 Johnson Rd.
South Bend, Indiana 46614
Rev. Nji Tegha Afuhwi
Parochial Vicar
St. Mary of the Annunciation
St. Mary of the Annunciation
574-848-4305
411 W. Vistula St.
Bristol, Indiana 46507
Rev. Jonathan Agbedo
Pastor
St. Mary of the Presentation
St. Mary of the Presentation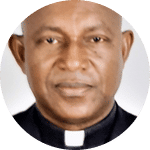 260-997-6558
5790 E 1100 S
Geneva, Indiana 46740
Rev. Sunday Akuh
Parochial Vicar
Holy Family, St. John the Baptist
Holy Family
Holy Family, 574-282-2317; St. John the Baptist, 574-233-5414
Holy Family
56405 Mayflower Rd.
South Bend, Indiana 46619
St. John the Baptist
3526 St. Johns Way
South Bend, Indiana 46628
Jocelyn Alcala
Associate Director of Youth and Young Adult Ministry
Diocese of Fort Wayne-South Bend, Archbishop Noll Catholic Center, Secretariat for Pastoral Ministries and Catechesis
Diocese of Fort Wayne-South Bend
Diocese of Fort Wayne-South Bend
Archbishop Noll Catholic Center
915 South Clinton Street
Fort Wayne, Indiana 46802
Secretariat for Pastoral Ministries and Catechesis